Home

/

Why Managed Services
Do I Need Managed Services?
Saving your data can literally save your business.
Managed Services is really business continuity insurance, it ensures that all your systems are functioning as efficiently as possible with little or no downtime. Critical business information and records are protected around the clock, for example, customer information, financial records and project/product plans to name a few. eliquidIT's Managed Services protects the information that your business couldn't survive without. In fact, recent survey found that only 6% of businesses that suffer a major data loss manage to survive for the long haul. Saving your data can literally save your business.
Having your IT infrastructure managed by eliquidIT saves your business money by managing your IT needs rather than you having to hire additional staff or pricey technicians. A reactive approach, where you bring someone in to fix hardware or software whenever something fails is costly, erratic and difficult to plan and budget for.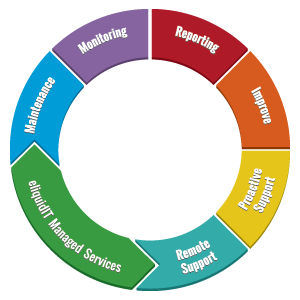 Emergency or after hours service adds to the expense when you just have to get it fixed now. The cost of an IT failure is not strictly limited to your hardware, software and technician's labor. At a minimum, every IT failure costs your business employee resource downtime along with the cost of delays, missed opportunities and shrinking customer goodwill. Inevitably, the total cost to a company is much, much larger than a monthly retainer.
eliquidIT's Managed Services provides a predictable and regular cost structure that can be reliably planned into your budget. In a sense you are paying a small monthly premium to keep your business up and running rather than paying through the nose when something goes wrong. In addition, we tailor the cost of the program to the size and complexity of your business. Rather than take a "one size fits all" approach, we assess your network and IT infrastructure first, so that we can tailor a solution that best fits your business objectives, operational needs, existing technical investment and your budget.
There are a variety of reasons why eliquidIT's Managed Services approach is the smartest decision that a business can make. Keep in mind, that the expense of an IT failure is not limited to the out of pocket costs related to hardware, software and IT labor. It encompasses the cost of the business disruption that drives directly to your top and bottom line expense.
In addition, there are many practical benefits when choosing eliquidIT's Managed Services. By design, managed services customers receive top priority at all times ensuring that their IT investment is operating at peak efficiency. Since those customers are being monitored 24×7x365, we can detect and fix minor glitches as soon as they occur, and this is key, before they become major business interruptions. In the event that failure occurs, eliquidIT's Managed Services customers receive top priority service with guaranteed response and time to resolution. In practice, that means we respond to your calls first and then perform remote diagnostics. In most cases, problems can be resolved remotely. But, in the event of an actual emergency, on-site response is also guaranteed under the terms of an agreement with eliquidIT. That means you will always experience the promptest response and the timeliest, time to resolution under the terms of your agreement. There are no such guarantees when you pay as you go, and you could be kept waiting.